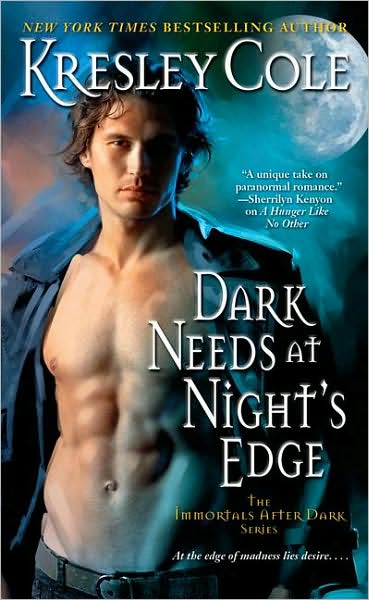 Dark Needs at Night's Edge
B-
Neomi Laress & Conrad Wroth
the Immortals After Dark series 4
A New Orleans ballerina in the 1920s, Neomi Laress had her life cut short by a murderous fiancé. She has haunted her estate, Elancourt, for the past 80 years, desperately seeking contact. Conrad Wroth is a self-loathing vampire mercenary with serious bloodlust. His brothers bring him to Elancourt to try to make him sane again, but he soon gets drawn into Neomi's difficult world, and the two fall for each other. But since Neomi isn't embodied, they can't touch. And that's just one of their problems. The banter of secondary characters, particularly Mariketa the Witch, distinguishes this standard story of an unattainable woman who needs saving and a rageful man who needs taming. (amazon)
Dark Needs at Night's Edge was my very first Kresley Cole novel, which, now that I think about it, wasn't a very wise decision.
I'm known to be somewhat of an anal book picker. I no longer randomly "pick" books out at the library; I deliberate on the title to ensure that the book isn't in the middle of some impossibly long series. (I'm specifically thinking of Julia Quinn's Bridgerton series, Stephanie Lauren's Cynster series, and of Sherrilyn Kenyon's Dark Hunter series.). It is the most impossible thing when you come home with a book that you're (somewhat) looking forward to read when, after reading a couple of pages, you realize you have no absolute clue as to what's going on because of all the back-stories you've missed out on.
Such is the unfortunate case for DNANE.
I imagine this to be at least the third/ fourth book in the Immortals After Dark series since Conrad has three brothers.
Only the third book, you say?
While some authors do a great job integrating readers into the middle of a series, Ms. Cole does not. That and that her paranormal world is vastly complex; this isn't the middle of a bunch of brothers finding their true love – it's about werewolves, witches, demons (with horns!), trolls, gnomes, and [fill in random non-human thing here].
So, in comes Conrad who apparently is a vampire, but hates being one. In fact, he despises his eldest brother who turned him some-hundred years ago. Reason is revealed as one reads further, however, Conrad has a wicked reputation of being a very badass and very bloodthirsty soldier. His eyes are bloodshot, symbolic of him having drained others of their blood. He also has a wicked temper, to boot.
Troubled, his brothers lock him in an abandoned house – that unbeknownst to them, is haunted by a ghost. The very attractive ghost is Néomi Laress, former prima ballerina in the 1920/1930s. She was brutally murdered by her ex-fiance and stuck around for eighty-some years.
To Conrad's dismay, he is the only one who can see her.
I know what you're thinking. Ghost?!?! Who reads J.R. Ward here? (spoiler: I immediately thought of Vishous's Jane, too.)
I'm not ruining anything when I say there is a happily ever after, though the process of Néomi and Conrad's is painful requiring a lot of voodoo witchy-spell stuff. A little over my head (did that witch get her own book? I want to say yes, which means this is the fourth book – at least!)
The love story itself was decently powerful and poignant…enough. It was interesting.
I say, give it a try – but read from the beginning of the series!