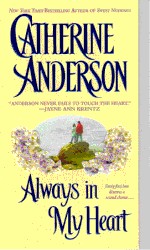 Always in My Heart:

A+

Ellie Grant and Tucker Grant

Two years ago, Ellie Grant would have fallen apart at any reminder of her ex-husband, Tucker. But now she doesn't bat an eye when "their song" comes on the radio. She's unfazed by the thought of Tucker's perky new girlfriend. Ellie Grant is over him. And things are better for Tucker as well. The single life agrees with him. And certainly they've both done a good job of being civil to each other, for the kids' sake.

But the kids aren't buying it. Zach and Kody are convinced that, deep down, their parents are stll meant to be together. Up to their elbows in scheming and dreaming, the brothers hatch a plan: They'll run away from home into the Oregon wilderness and stay there until their parents agree to get back together. Surely Ellie and Tucker will come to the rescue – and to their sense.

Let the games begin and the sparks fly…

This is story is so much more than a romance – it's about family, the loss of a loved one, grief, and moving on. There was so much depth and romance in the story, it is hard to believe that it's only a romance.


Ellie and Tucker Grant lost their first born son, Sammy, two years ago. Following Sammy's death came their divorce and their family fell apart. It's hard to believe that Ellie and Tucker were once childhood lovers; the hatred and bitterness they have for each other is heartbreaking and painful to read.

The hurt and grief that Ellie and Tucker have effects their two remaining sons, Zach and Kody ages fourteen and eleven. They choose to run away into the wild woods of Oregon and refuse to come home until Ellie and Tucker have reconciled.

Ellie and Tucker set out to search for their runaway sons and bring with them their spiteful words and their lovers. Together, they hike through the wilderness for their sons and on the way, manage to share their grief so that they are able to move on from Sammy's death.

This story is more than a reconciliation; it's about communication between loved ones, about hurt and grief that is strong enough to destroy lives, and the rekindling of old love.

When Ellie and Tucker finally shared their perspectives with each other, my heart broke for them. Then I squealed in joy when they were finally able to share their grief together. Their chemistry is stronger than ever and even more tender, because of what they've suffered.

Ms. Anderson, you've really outdone yourself.